Message from the President
We will continue to conduct investments essential for business model innovation and sustainable growth while carefully selecting investment themes
Tough market environment worldwide
  At the outset of FY2019, MISUMI Group assumed market conditions surrounding the manufacturing industry as being "opaque due to uncertainties surrounding the Chinese economy over the prolonged US-China trade conflict" and "global economic slowdown in the short term". At present, however, the market environment has taken a turn for the worse beyond our initial assessment, with a serious impact on our business results. In addition to China, Japan and Europe were also significantly affected by a decline in demand, and consolidated net sales in the first half of FY2019 was \157.1 billion, a decrease of 5.7% year on year. In light of the decline in demand, we reviewed the timing of investments in new overseas logistics center and other projects and started to improve the profit structure, but operating income decreased 26.2% to \11.7 billion. Ordinary income was \11.5 billion (a decrease of 27.6%), and net income attributable to owners of parent was \8.5 billion (a decrease of 26.5%).
 Even during deterioration in the manufacturing industry, MISUMI Group is deploying its global reliable and quick delivery business model to build a stronger customer base. The number of our customers worldwide increased by 9.8% year on year, forming the foundation for the possibility of further growth when the economy recovers. We believe that the advancing trend of digital manufacturing in the manufacturing industry will endure, and will continue to conduct upfront investments aimed towards business model innovation in line with this trend while carefully select investment themes.
 Looking back over MISUMI Group's history, compound average growth rate has been 11% since 2001 when we established our current strategic management system. Since 2009 when the global financial crisis occurred, the rate has been 14%. During the recent market downturn, I intend to establish a solid business structure that will enable growth through our own deliberate efforts based on the initiatives detailed above.
Growth of the MISUMI Group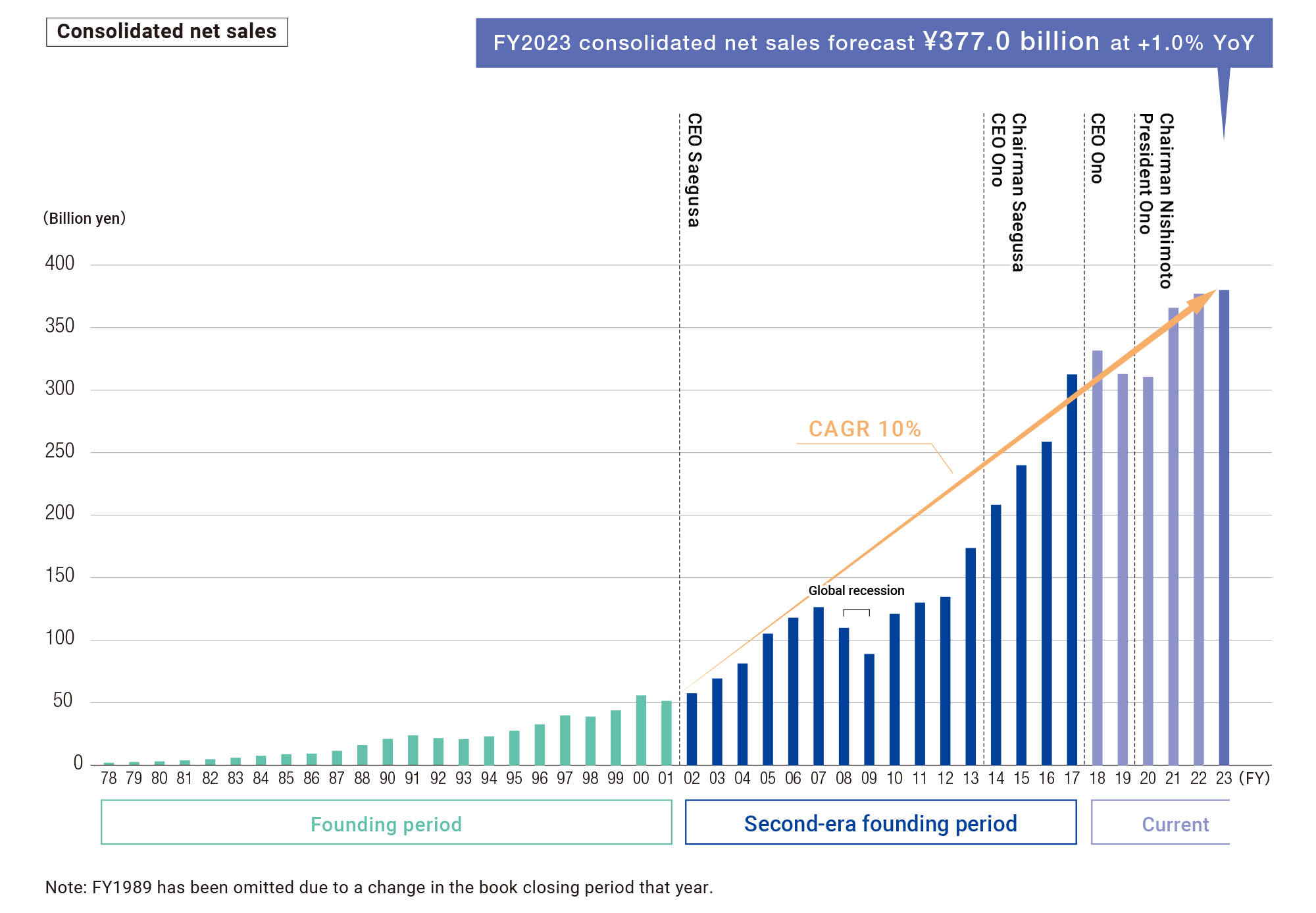 Sales expected to increase in overseas markets in the second half. Forecast for full-year results has been revised
 In the second half of FY2019, we plan to increase sales in markets including Japan, Southeast Asia and North America by expanding the product lineup of the FA and VONA* businesses. However, considering the current market environment and demand trends, we have revised our full-year forecast for net sales downward by 8% from initial plan to ¥326.5 billion. The operating income forecast has been revised to \27.7 billion, down 21.8% from our initial plan.
* VONA: Variation & One-stop by New Alliance. A business that sells and distributes production facilities related components, production auxiliary materials, maintenance, repair and operations (MRO) consumables from third-party brands alongside MISUMI branded products.
 Dividends are determined based on a payout ratio of 25%, and we have set an interim dividend of ¥7.51 per share (a decrease of ¥2.70 year on year). Annual dividends per share are expected to be \17.73, a decrease of \3.47 year on year.
Encompassing both IT capability and response capability towards the manufacturing industry to pursue e-distribution revolution
 As for our business foundation, to enhance soundness of our reliable and quick delivery, we are shifting our IT systems to the cloud as planned, but the complete revamp of our core systems has been postponed to FY2020. Our priority is to reap the benefits from cost reduction effects garnered by the cloud network. For logistics system, we will establish a new distribution model fulfilled with automation system, beginning with the Central Japan Distribution Center which started full-scale operation in September 2019, and the East Japan Distribution Center which will relocate to a larger facility in January 2020. We will roll out this model to our overseas centers, and work to simultaneously improve productivity and enhance our reliable and quick delivery.
 In the manufacturing business, we expanded our lineup with the addition of products made of resin materials to the meviy service, which can provide immediate quotations and shipping as quickly as one day to customers who simply upload their 3D CAD data. We will continue to accelerate growth by further expanding product areas and strengthening manufacturing functions. In the VONA business, the total number of products handled increased from 26.7 million to 29.4 million over the past six months, and remains to be the largest distributor for the manufacturing industry. This year, the business started a half-day delivery service in China and Thailand, earning high praise from customers. Currently, the service is expanding in South Korea, Vietnam and Indonesia.
 MISUMI Group is leveraging its competitive advantages of encompassing both manufacturing and distribution businesses in pursuing model innovation in line with globally advancing digital manufacturing. In doing so, we will strengthen our response capability towards the manufacturing industry and IT, with the aim of a revolution in e-distribution of production materials.
Representative Director,President
Ryusei Ono