Message from the CEO
We aim for further growth by pursuing "time based strategy" to support process innovation in the manufacturing industry.
The value proposition provided by MISUMI Group and its social mission
In the year ended March 31, 2017 (FY2016), the business environment in which the MISUMI Group operates continued to generally trend slowly toward recovery. In the United States, the economy continued to rebound underpinned by consumer spending and inventory investments. In China, there were signs that economic growth had picked back up owing in part to benefits from various government policies and a strong increase in consumer spending. Meanwhile, at home there were indications that consumer spending and capital investments had bounced back. In addition, there was an improvement to corporate earnings and employment trends.
Amid this economic environment, the MISUMI Group is leveraging its unique business, encompassing both manufacturing and distribution operations. The goal of the group is to contribute to the manufacturing industry worldwide while simultaneously accelerating business expansion by widening its business infrastructure globally and eliminating customer inefficiency. In an effort to address a new wave of manufacturing that positions IT at its core, we improved our competitive strength by continuing to implement Internet strategies.
In addition, we strengthened our global reliable, short delivery system. As a localization strategy, we are promoting local production-local procurement initiatives, with the goal of providing optimal sourcing. There was unfavorable impact from forex fluctuations, however, thanks to the aforementioned initiatives and other measures, our consolidated earnings growth was propelled by an increase in sales mainly in the Factory Automation (FA) Business, where we benefitted from a rise in demand in the automotive industry and electronics industry, and growth in the VONA Business, which benefited from an increase in customer base and an expansion in the number of manufacturers from which we distribute products.
In light of this, we achieved record highs for net sales and profits across the board. We posted consolidated net sales of ¥259.0 billion, a rise of 7.9% year-on-year, the sixth consecutive year for all-time high sales. In the profit front, we recorded operating income of ¥27.1 billion, an increase of 5.6%, and net income attributable to owners of parent of ¥18.3 billion, an increase of 8.8%.
Record high sales and profits for the seventh consecutive year
MISUMI Group Inc. determines its dividend payout policy based on a comprehensive review that takes into account the business environment as well as performance trends and outlooks in order to achieve sustained growth and corporate value improvement, strengthening its financial base, and improving capital efficiency.
The payout ratio for dividends was increased from 20% to 25% starting from the year-end dividend for FY2011. We will retain this ratio in the current fiscal year. Accordingly, we paid a fiscal year-end dividend per share of ¥9.10. Combined with the interim dividend per share of ¥7.61, we plan to pay an annual dividend per share of ¥16.71, an increase of ¥1.29 compared with a year earlier.
Growth of The MISUMI Group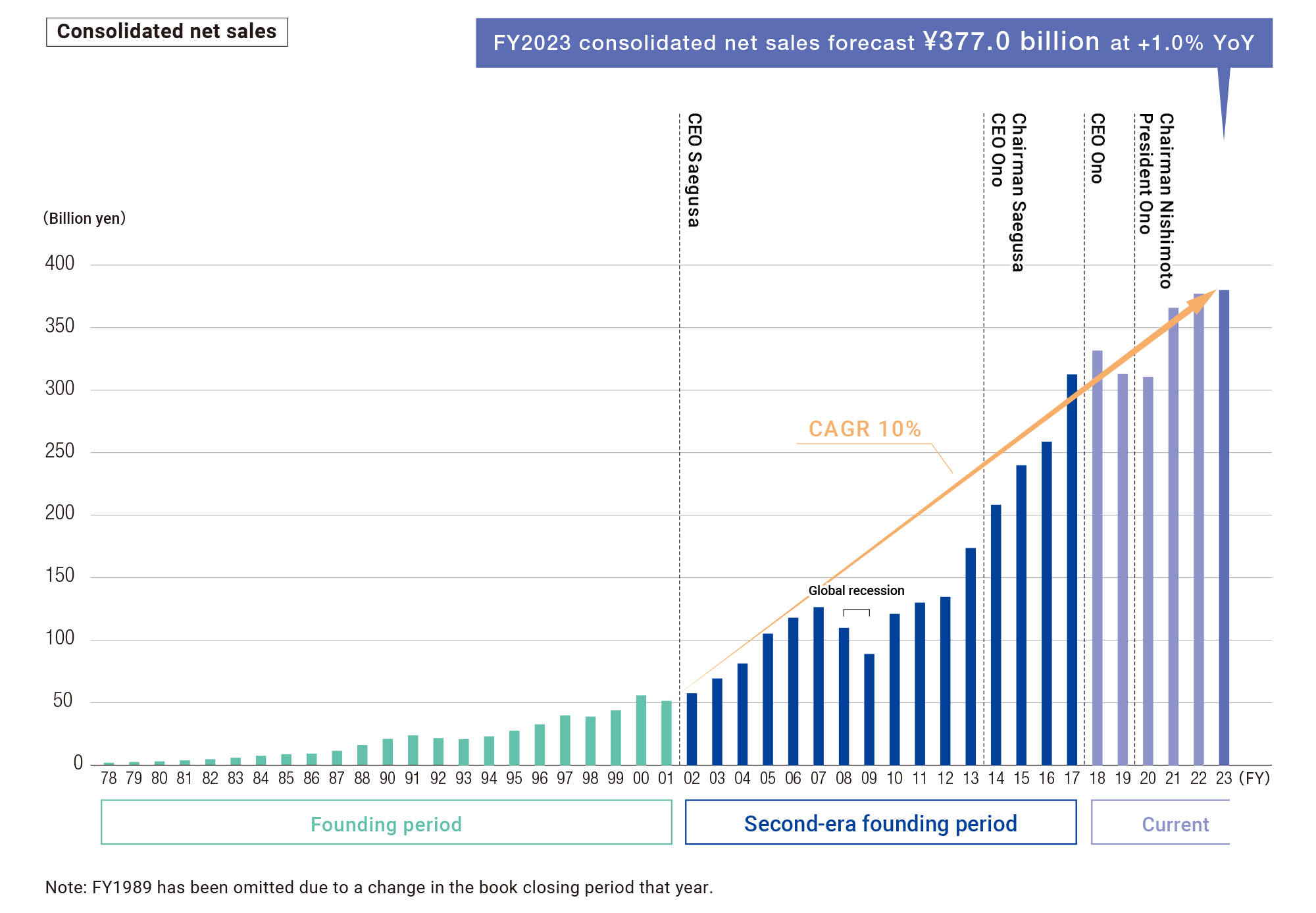 Transitioned from current business model by adding higher value to the e-commerce model optimized for the manufacturing industry
In FY2017, major economies around the world, including Japan, are expected to continue to generally trend slowly toward recovery. However, it will be necessary to monitor uncertainties in overseas economies, impact from fluctuations in the finance and capital markets, and geopolitical risks, including impact from the normalization of fiscal policies in the United States, and the economic outlook for China and emerging economies in Asia.
Amid this market environment, the MISUMI Group aims to renew its all-time high net sales and profits. To this end, we plan to expand our product lineup, enhance our cost competitiveness, strengthen our reliable, short deliveries globally, and increase our market share in the international market by further expanding our businesses.
MISUMI Group Inc. would like to extend the utmost gratitude and appreciation to valued shareholders for their ongoing support.
Representative Director,
President and CEO
Ryusei Ono